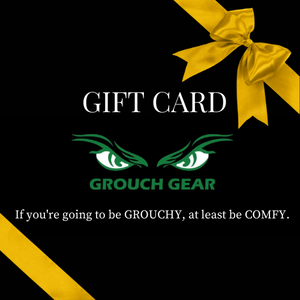 Grouch Gear Gift Card
grouchgear
Regular price $25.00 Sale
Buy A Gift That Is Guaranteed To Be A Hit. 
The gift that lets them choose.  For online purchases plus no transaction fees or expiry dates.  That's a lot of reasons our Gift Cards make great gifts.

Gift Card Terms and Conditions

Grouch Gear Gift Cards are redeemable for merchandise, online at www.grouchgear.com (opens in a new window) or by email to admin@grouchgear.com.   Purchases will be deducted from this card's balance until the value reaches zero dollars. Funds on this card do not expire and cannot be redeemed for cash.  Gift cards are single use, not re-loadable and there are no activation fees on these cards.

Grouch Gear is not responsible for lost, stolen, damaged or compromised cards, or any unauthorised use. Your acceptance or use of this card constitutes agreement to these terms and conditions, which may change at any time. To check your balance, email to admin@grouchgear.com.